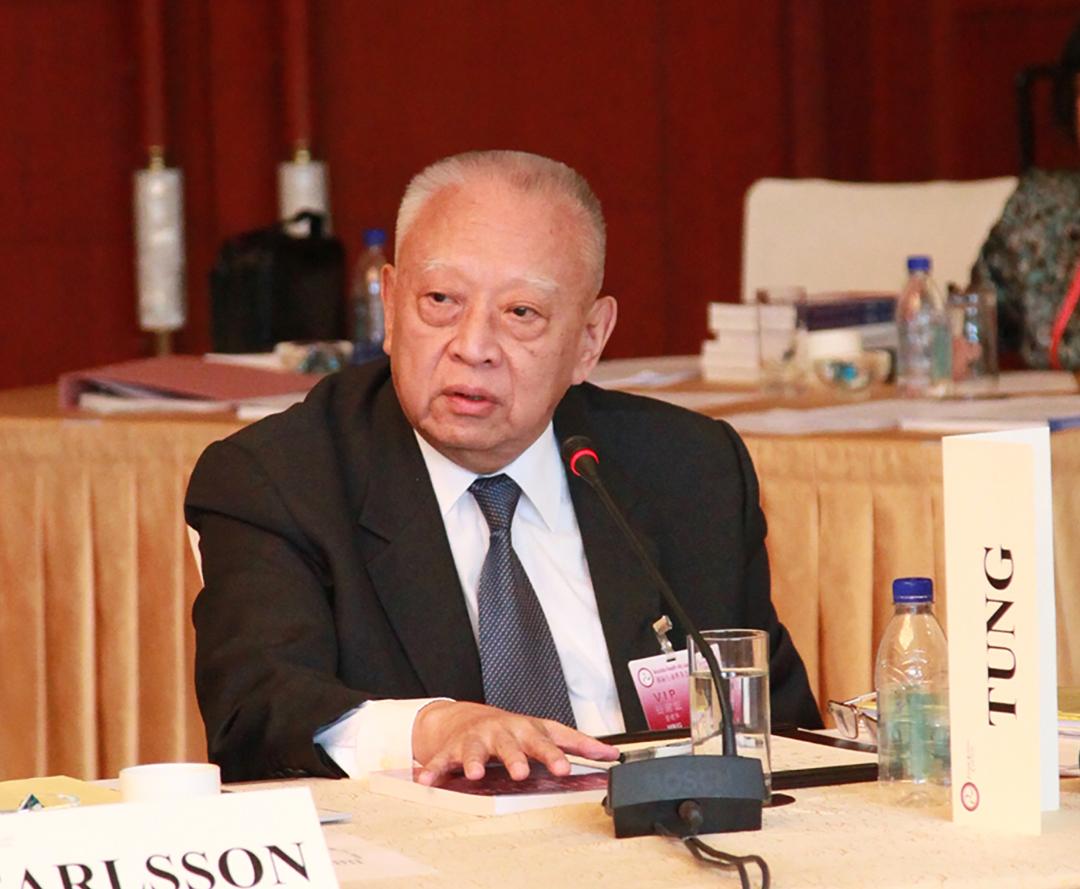 First Chief Executive of the Hong Kong Special Administrative Region, People's Republic of China from 1997-2005
Year and place of birth
Born in 1937 in Shanghai.
Education
Mr. Tung spent his childhood in Hong Kong. From 1954, he spent six years in the United Kingdom first in secondary education and then in tertiary education graduating at University of Liverpool with BSc in 1960.
Professional experience and political career
From 1960-1969, he lived and worked in the United States first as an engineer with General Electric in Massachusetts and then in the family business in New York. In 1969, Mr Tung returned Hong Kong to
help to run the family business. He had a successful and distinguished career in business while at the same time served in various public sector and advisory positions in Hong Kong.
In 1997, he took on the position as the first Chief Executive of HKSAR.Mr. Tung Chee Hwa is the Vice Chairman of the Eleventh National Committee of the Chinese People's Political Consultative Conference, People's Republic of China. He is the Founding Chairman of the China-United States Exchange Foundation ("CUSEF"). Prior to these appointments, Mr. Tung served as First Chief Executive of the Hong Kong Special Administrative Region ("HKSAR"), People's Republic of China from July 1997 to March 2005.
As the First Chief Executive of HKSAR, Mr. Tung presided in the historical return of Hong Kong to China and successfully turned the "One Country Two Systems" and "Hong Kong people governing Hong Kong" with "high degree of autonomy" from a concept into an everyday reality.
The Chinese People's Political Consultative Conference ("CPPCC") is one of the most important institutions of the People's Republic of China. Members of the CPPCC are made of distinguished former senior government officials, well known professionals, outstanding academics, members of different political parties and people from different religious and ethnic groups from all across China. Major responsibilities of the CPPCC are to participate in the formulation and development of policies, to monitor the work of the government and to promote consultative democracy. It plays a key role in ensuring that the opinions from the public at large are reflected to the government, and that government policies are communicated to the people.
The China-United States Exchange Foundation is a non-profit organisation registered in Hong Kong and was established in January 2008. Mr. Tung is the Founding Chairman and is supported by friends in Hong Kong, China and the United States. The mission of the Foundation is to promote understanding and strengthening relationship between the US and China. This is being done by fostering open dialogue between opinion leaders from governments, think tanks, academia, media and business communities of both countries.
Family life
Mr Tung is married to Betty Chiu Hung Ping. They have three children and nine grandchildren.