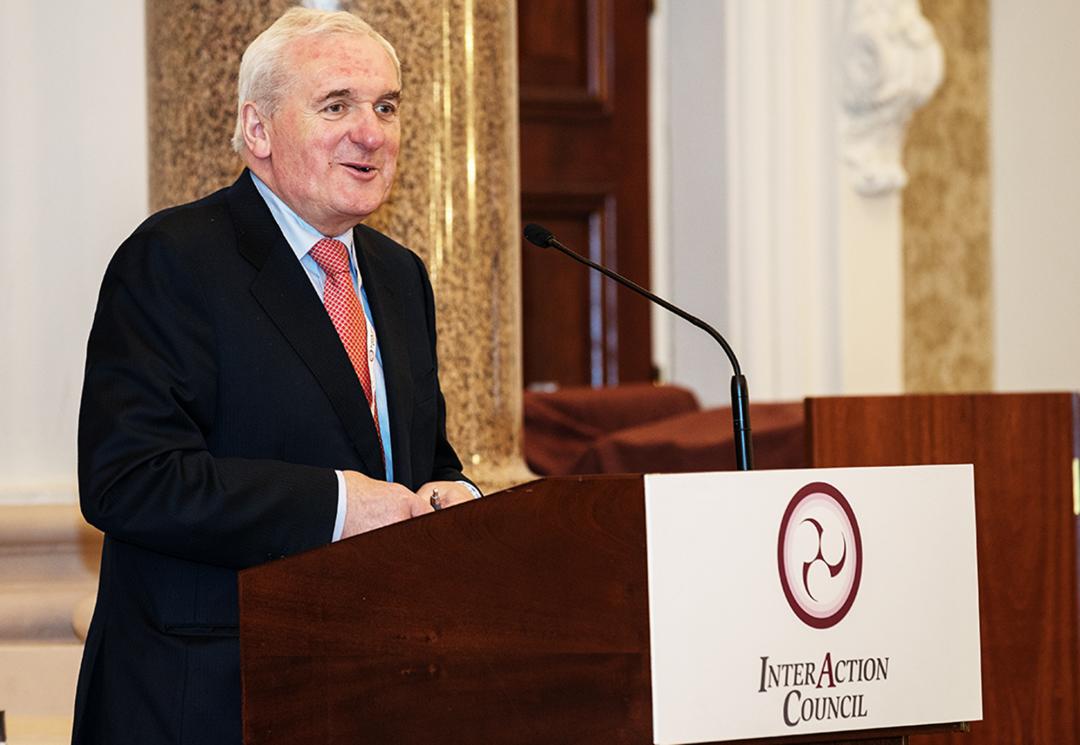 Prime Minister (Taoiseach) of Ireland 1997-2008
Date and place of birth:
12th September, 1951, Dublin, Ireland.
Education:
St. Patrick's National School, Drumcondra;
St. Aidan's Christian Brothers, Whitehall;
College of Commerce, Rathmines;
University College Dublin.
Professional experience and political career:
Bertie Ahern retired as Taoiseach (Prime Minister) in May 2008 having enjoyed the unique distinction in modern Irish politics of being the first person in over sixty years to have been elected to that office on three successive occasions. 
He was first elected to the Dáil (Parliament) in 1977 for the constituency of Dublin-Finglas and has represented Dublin Central since 1981. He was Minister for Labour from March 1987 to November 1991 and was appointed Minister for Finance on three separate occasions from November 1991 to December 1994.
He has served as Tánaiste (Deputy Prime Minister), Minister for Arts, Culture & the Gaeltacht and Minister for Industry and Commerce at various stages. His first ministerial appointment was as Government Chief Whip and Minister of State at the Department of the Taoiseach and at the Department for Defense in 1982.
Bertie Ahern was a member of Dublin City Council from 1978 to 1988 and had the honour of serving as Lord Mayor of Dublin from 1986 to 1987.
In November 1994 he was elected leader of his party Fianna Fáil and served as Leader of the Opposition from then until June 1997.
He was first elected Taoiseach in June 1997, he was re-elected in June 2002 and again in May 2007.
In 1997 his party was elected to government in coalition with the Progressive Democrats. This minority administration was supported by a small number of Independent members of Parliament. Bertie Ahern received widespread praise for his political skills in ensuring that this administration served it full five year term and delivered on real political and economic progress for the Irish people.
The defining moment of this period and a defining moment in Irish history was the successful negotiation by Bertie Ahern and Tony Blair of the Good Friday Agreement between the British and Irish Governments and the political parties in Northern Ireland in April 1998.
He was re-elected Taoiseach in June 2002 with the Progressive Democrats. These years were a period of unprecedented economic growth and social change in Ireland. It was also a period of continuing and intense engagement with the Northern Ireland peace process.
On 8th May 2007 those years of work paid a rich dividend when a power sharing Administration was established in Northern Ireland led by First Minister, Dr Ian Paisley and Deputy First Minister, Mr Martin McGuinness. After nine years of unstinting political commitment this historic event represented the full implementation of the Good Friday Agreement and a great triumph for Mr Ahern, Mr Blair and the leaders of the Northern Ireland parties.
On 14 June, 2007, following a general election which saw his party, Fianna Fáil, returned to power in coalition with the Green Party and the Progressive Democrats Mr Ahern was elected as Taoiseach (Prime Minister) for the third time.
On the wider world stage during his Presidency of the European Council from January 2004 to June 2004 Bertie Ahern presided over the historic enlargement of the European Union to 27 member states including eight countries from Eastern Europe. He led Ireland to take leadership roles on key global issues such as increasing aid to developing countries and tackling the spread of HIV AIDS.
Bertie Ahern's achievements as a leader at home and abroad have been recognised internationally. He has been conferred with honorary degrees by several universities and is one of only five people to enjoy the great distinction of having been invited to address both the Houses of Parliament at Westminster and the Houses of Congress of the United States in Washington D.C.
Since leaving office Mr Ahern has been involved in Conflict Resolution worldwide. He spent four years with The World Economic Forum Agenda Council on Conflict Resolution and then working with a number of organisations such as Democratic Progress Institute in Turkey and Crisis Management Initiative in the Ukraine.  
In the past year he has successfully chaired the Bougainville Referendum Commission working with the United Nations Development Programme and the donor countries including Australia, New Zealand, and The Papua New Guinea Government.
The Referendum concluded at the end of 2019 with the election due shortly for a new President and Government in Bougainville.