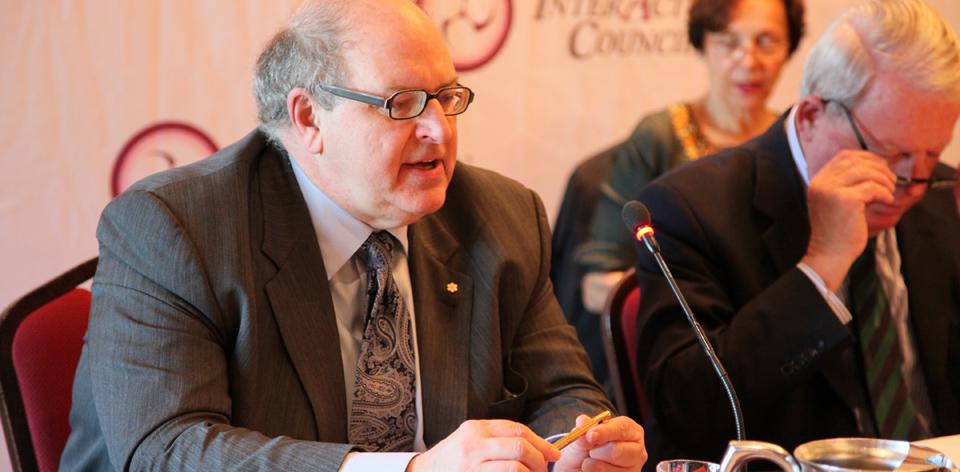 Date and place of birth:
23 May 1947 in Winnipeg, Manitoba.
Professional experience:
Thomas S. Axworthy is a distinguished senior fellow at the Munk School of Global Affairs, University of Toronto.  Previously, he served as Senior Policy Advisor and Principal Secretary to Prime Minister Pierre Trudeau. In 1984, Dr. Axworthy joined Harvard University as a Fellow of the Institute of Politics at the Kennedy School of Government. He was subsequently appointed visiting Mackenzie King Chair of Canadian Studies.
In 1999, Dr. Axworthy helped to create the Historica Foundation to improve the teaching and learning of Canadian history, becoming its Executive Director until 2005. To recognize his achievements in heritage education (he initiated the Heritage Minutes), civics, and citizenship, Dr. Axworthy was invested as an Officer of the Order of Canada (2002). In 2003, he became Chair of the Centre for the Study of Democracy, School of Policy Studies, Queen's University, pursuing the themes of expanded human rights and responsibilities, democratic reform, Canadian-American relations, and modern liberalism that characterized his research, teaching and advocacy career. In 2009, he became President and CEO of the Walter & Duncan Gordon Foundation.
Dr. Axworthy has edited several publications, including Towards a Just Society: The Trudeau Years, with the most recent being Bridging the Divide – papers for the Interaction Council, (June 2008). He was awarded an honorary LLD from Wilfrid Laurier University (2003) and the Public Affairs Association Award of Distinction on November 26th, 2008 by the Public Affairs Association of Canada.