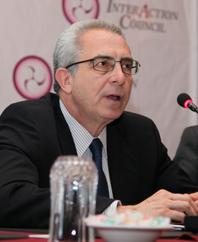 President of Mexico 1994-2000
Date of birth:
27 December 1951
Education:
He earned his Bachelor's degree from the School of Economics of the Natìonal Polytechnic Institute in Mexico and his M.A. and Ph.D. at Yale University.
Professional experience and political career:
He was a Professor at the Natìonal Polytechnic Institute and El Colegio de Mexico. From 1978-87 he was with the Central Bank of Mexico where he served as deputy manager of economic research and deputy director. From 1983 to 1987, he was the founding General Director of the Trust Fund for the Coverage of Exchange Risks, a mechanism created to manage the rescheduling of the foreign debt of the country's private sector that involved negotiations and complex financial operations with hundreds of firms and international banks. He served in the Federal Government of Mexico as Undersecretary of the Budget (1987-1988); as Secretary of Economic Programming and the Budget and board member of various state owned enterprises (1988-1992); and as Secretary of Education (1992-1993). He was elected President of Mexico in August of 1994; his term ran from December of 1994 to December of 2000. Since leaving office in 2000, Ernesto Zedillo has been a leading voice on globalization, especially its impact on relations between developed and developing nations.
He was a Distinguished Visiting Fellow at the London School of Economics in 2001 and has been at Yale University since 2002, where he is the Director of the Yale Center for the Study of Globalization; Professor in the Field of International Economics and Politics; Professor of International and Area Studies; and Professor Adjunct of Forestry and Environmental Studies.
Mr. Zedillo has been a member of the Board of Directors of The Procter & Gamble Company since March 2001. He was a director of the Union Pacific Corporation from 2001 to 2006. In addition, he was a director of EDS from 2007 to 2008. Mr. Zedillo was elected to the Board of Directors of Citigroup Inc. in April 2010.
Mr. Zedillo belongs to the international advisory boards of ACE Limited, Rolls-Royce, BP and JPMorgan-Chase. He is a senior advisor to the Credit Suisse Research Institute. His current service in non-profit institutions includes being chairman of board of the Global Development Network, a member of the international advisory board of the Council on Foreign Relations, a member of the Foundation Board of the World Economic Forum and a member of the Bill & Melinda Gates Foundation's Global Development Advisory Panel.