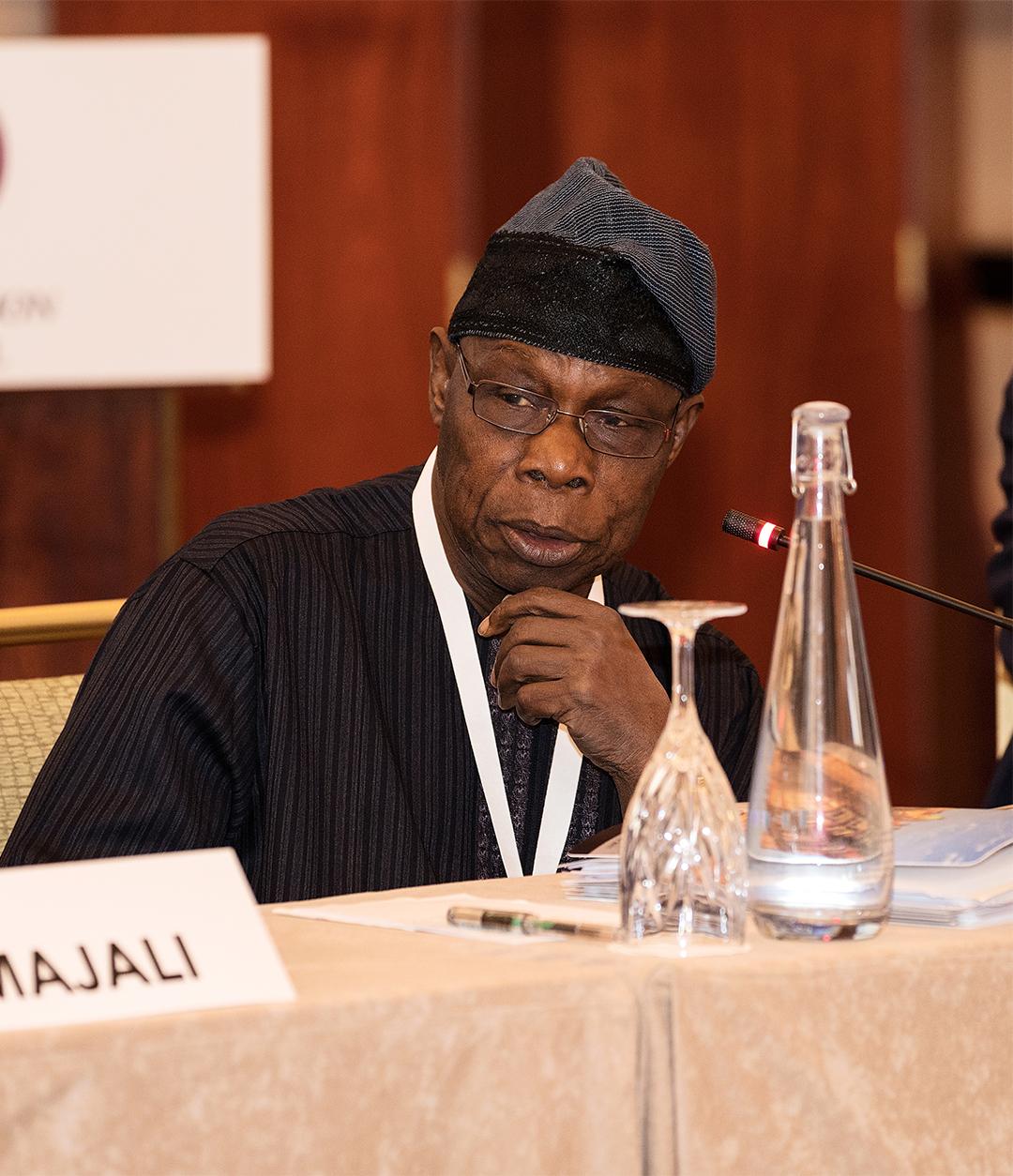 President of Nigeria 1999-2007
Date and place of birth:
5 March 1937, Ibogun, Nigeria.
Education:
At Baptist Boy's High School (BBHS), Abeokuta (1952-56), he did quite well academically. Although unable to go to university because of his family's low financial circumstances, he found the Nigerian Army a great institution for self-fulfillment.
He kick-started his military career by enlisting in the Nigerian Army in March 1958, after working briefly as a teacher following the end of his schooling at BBHS. His first formal training was at the Regular Officers' Special Training School, Teshi, Ghana and later at Mons Officers' Cadet School, Aldershot, England (1958-59).
He further trained at the Royal College of Military Engineering, Chatham, England; School of Survey, Newbury, England; Indian Defence College, Indian Army School of Engineering, Poona; and Royal Defence Studies, London, among other military institutions.
Professional Experience and Political Career:
Following the quick succession of his military training opportunities and experience, he was commissioned into the Nigerian Army as Second Lieutenant in 1959. He was attached to British Battalions in England and in Germany. A year later, in 1960, he was promoted to the rank of Lieutenant. As a soldier, President Obasanjo held several command positions including service with the United Nations Peacekeeping Force in the then Congo. He transferred from the Infantry to the Corps of Engineering in 1961. In 1963, he was promoted to the rank of Captain and appointed Commander Engineering Corps.
In 1965, he was promoted to the rank of Major, heading the Engineering Unit of the Nigerian Army. Between 1967 – 69, he was promoted to the following ranks:
Lieutenant Colonel and served as Commander Second Area Command, The Nigerian Army Commander, Second Division (Rear) and Commander, Army garrison, Ibadan
Colonel serving in the capacity of Third Marine Commando Division, General Officer Commanding (GOC) Third Infantry Division, Nigerian Army.
His outstanding military moment came in 1969 when he took over command of the 3rd Marine Command from the then Colonel Benjamin Adekunle. He conceived and immediately launched "Operation Tail Wind," which helped to bring the debilitating civil war to a quick end. He accepted the surrender of the "Biafran" forces in January 1970.
In 1970, he served as Commander of the Engineering Corps. He was promoted to the rank of Brigadier in 1972. On his return from a Senior Officer's Course at Britain's College of Defence Studies in 1974, he was appointed Federal Commissioner for Works and Housing and he became the second-in-command to Brigadier Murtala Muhammed as the Chief of Staff, Supreme Headquarters in the following year after the coup of July 29, 1975.
During his tenure, he began an ambitious nationwide barrack construction projects. Several years before, he made friends with Major Chukwuma Kaduna Nzeogwu about whom he wrote the book, Nzeogwu, among many other works.
Following the assassination of General Murtala Muhammed in a military coup on February 13, 1976, General Obasanjo reluctantly stepped into Muhammed's shoes and did not go back on the administration's goal and objective, which he successfully achieved.
In 1977, he formed the Nigerian National Petroleum Corporation (NNPC), organized the second World Black and African Festival of Arts and Culture (FESTAC '77), established the Egbin, Ughelli and Afam thermal power stations; set up the Corrupt Practice Bureau; and through his government's efforts, independence was achieved for Angola and later Zimbabwe.
He introduced the National Pledge to stoke up Nigerian nationalism and indigenized the lyrics of the national anthem. He set up the Constitution Drafting Committee and the Constituent Assembly; introduced the N20 currency in honour of his friend and predecessor, the Late General Murtala Muhammed and introduced the controversial Land Use Decree on March 29, 1978. General Obasanjo also confirmed the movement of the Federal Capital from Lagos to Abuja in accordance with the Murtala-Obasanjo policy programme.
General Obasanjo was the first Head of State and Government on the African continent to ever relinquish power to a democratically elected government peacefully and voluntarily.
The single-mindedness and determination with which General Obasanjo kept to the Muhammed-Obasanjo administration's word of handing over the reins of office to a democratically elected government and the zeal he deployed into executing the political programme that terminated on October 1, 1979 impressed Nigerians and the international community at a time many military rulers elsewhere in Africa were unenthusiastic about relinquishing power to elected governments. It was a dark era when African leaders found it fashionable to hang on to power even in the face of popular opposition.
In 1995, this former Head of State became a very important prisoner when the military dictator, General Sani Abacha, clamped a phony coup plot charge on him. It is believed that General Obasanjo who was abroad at the time when the alleged coup plot was uncovered and was warned by friends that he had been fingered by the regime as an accomplice, boldly returned home. As was widely expected, he was found guilty and banished to a regional local prison in Yola where it was intended that he would die.
It is now generally believed among his friends that prison experience made him a new creature. First, he saw first-hand what the phrase: man's inhumanity to man truly means. Second, he was drawn closer to God he became truly convinced of the need for a true democracy and saw the tragedy of military rule. Out of jail in June 1998, he quickly published Guide to Effective Prayer, The Animal Called Man (1999) and Women of Virtue (1999). Later in 2002, he also published his memoirs titled Sermons from Prison.
His prison experience, though short-lived because of the death of his jailer, has sometimes been likened to that of South Africa's most famous prisoner, Nelson Mandela. Obasanjo and Mandela stand out today as two distinguished African democrats who were jailed for unjust causes, rescued by divine providence and still actively involved in chasing a past greatness for Africa.
Olusegun Obasanjo has been described by many as the father of modern Nigeria due to his contribution to the national development during his two-term tenure. General Obasanjo upturned his earlier record – first African military Head of State to handover power to a civilian government, when he successfully handed-over the mantle of power to a democratically elected government following on May 29, 2007, a feat unrivaled in the 47 year history of the country. 
Today, General Olusegun Obasanjo has retired to his farm in Ota. Although he has retired, he is not tired. He is currently a student of the National Open University of Nigeria, undertaking a Postgraduate Diploma Course in Christian Theology.
President Obasanjo received the people's mandate – first for a four-year tenure and renewed during the 2003 Presidential Election – 20 years after he handed over power to a democratically elected government.
The circumstances of his civilian presidency were as controversial as the man himself. Coming at the time it did after Chief MKO Abiola lost his mandate and having been accused by a section of his Yoruba people for having supported the annulment of the 1993 presidential election, he was considered an unlikely successor to that mandate. That was partly why the South West made him look like an orphan in the 1999 election giving him the least regional vote. But Obasanjo seemed like one destined to rewrite the rulebooks. Quite against the run of critical thinking, he emerged as the first civilian president since 1983. And his achievements became quite clear that his kith and kin rallied behind him to give him a truly pan-Nigerian mandate in 2003.
Certainly there were numerous expectations from different quarters especially from those who gave him the mandate. There were clearly some policies, which bore the hallmarks of great thinking and a desire to improve the socio-economic health of the nation. Unfortunately, some of the loudest criticisms have been targeted at hanging state officials tasked with their implementation.
The Obasanjo administration initiated and executed projects that positively impacted on the lives of Nigerians, irrespective of status. His administration launched Nigeria on the path of political, social and economic growth.  A few of the achievements recorded during his tenure include:
anti-corruption campaign/recovery of loots from national treasury from past and serving government functionaries;
the renegotiation and eventual settlement of Nigerian debts;
consolidation of the banking industry;

institutionalisation of transparency in the financial sector;

the opening up of the telecommunication industry;

Liberalisation of the education sector and the opening up of space for private sector participation and investment in tertiary education.
Significant improvements were also recorded in the following areas:
The space technology programme - the launch of two satellites, SAT 3 and NICOMSAT
The energy programme and nuclear programmes
Education sector
ICT programme
Bio-technology programmes
Agriculture programme
Poverty Eradication Programme
Niger Delta Development Commission
Universal Basic Education and the general improvement of infrastructure amongst others.
In view of his commitment and dedication to the cause of Africa as well as his experience and understanding of the political, socio-economic and cultural landscape of Africa, President Obasanjo was appointed as UN Special Envoy to broker peace among the conflicting parties in DRC and the Great Lakes Region. His involvement has reunited the avowed enemies and brought peace to the region.
Awards and Honours
1981-87,  Member, UNESCO Commission for Peace in the Minds of Men
1983-89 Member, Independent Commission on Disarmament and Security (the Olaf Palme Commission)
1983, Member WHO Committee of experts on the Effects of Nuclear Weapon
1986, Co-Chairman, Commonwealth Eminent Persons Group on South Africa
1986, Member, United Nations Panel on Eminent Person on the relationship between Disarmament and Development
1987-93, Director, Better World Society, Washington D.C.
1988-89, Founder and Chairman, African Leadership Forum and Chairman, Board of Directors, African Leadership Foundation Inc. New York
1988 (May), Chairman, Hearing on Namibia, the World Council of Churches, Washington D.C
1988-99, Special Adviser to the International Institute of Tropical Agriculture, Ibadan
1989, Honorary Member, Committee on the United Nations Population Award
1989, Member, Independent Group on Financial Development for Developing Countries (the Schmidt Commission)
1989 Member, Advisory Council, Parliamentarian Global Action
1989-99, Chairman, Advisory Council, Transparency International (TI)
1990, Member, Advisory Council, the Institute for Global Ethics
Member, Board of Trustees, African American institute
1991-93, Publisher, African Forum Quarterly
1991, Member, Eminent Persons Council, International Negotiations Network, the Carter Centre of Emory University, Atlanta
1991, Member, Council of Advisers, The World Food Price, Des Monies Lowa
1992, Member, Advisory Group on United Nations Financing (Ford Foundation)
1993-95, Member, United Nations Secretary General's Advisory Panel on Africa
1994 – Official Observer of the Elections in Mozambique at the invitation of the Government of Mozambique
1994-99 Member, Advisory Council, Carnegies Commission on Preventing Deadly Conflicts
1995-99, UNDP Human Development Ambassador
Proprietor and chief Promoter, Bells University of Technology, Ota.
These and many others have helped to raise the stature of President Obasanjo above that of any other living Nigerian. In 1992 he was even in the race for the position of Secretary-General of the United Nations.
Other contributions
1979, He was decorated and accorded the highest national award, Grand Commander of the Federal Republic (GCFR)
Honorary Doctorate Degree (Howard University, Washington DC USA)
Honorary Doctorate Degree (University of Maiduguri, Nigeria)
Honorary Doctorate Degree (University of Ibadan, Nigeria)
Honorary Doctorate Degree (University of Maiduguri)
Doctor of Law (Honoris Causa), University of Namibia
Doctorate Degree in Public Administration (Honoris Causa), Olabisi Onabanjo University, Nigeria
Honorary Doctorate Degree of Science, Bowen University, Iwo
Awarded the Human Rights Price by Friedrich – Ebert Foundation, Bonn, Germany in 1996
Received the Indira Gandhi Peace Prize, New Delhi, India
He delivered the Leffingwell Lecture at the Council of Foreign Relations, New York, 1987
He delivered the Second W.E.B. Du Bois Lecture at the New School of Social Research, New York
Delivered the 2007 Congressional Black Caucus Foreign Affairs Brain Trust Lecture September, 2007, Washington D.C.
He is Proprietor and Chief Promoter of Bells University of Technology, Ota, Nigeria.
Publications
Although, during the military retirement, General Obasanjo refrained himself as far as possible from domestic politics, a time came when the conscience led him into writing some critical essays on subsequent Nigerian governments. He made significant contributions: either as author, co-editor or publisher or both. His publications include the following titles:
My Command (Ibadan,1990)
Africa Embattled  (Ibadan, 1988)
Constitution of National Integration and Development (Lagos, 1989)
Leadership Challenged of Economic Reforms Africa (New York (1990)
Not My Will (Ibadan, 1990)
Elements of Development (Co-edited with Prof Akin Mabogunje, Ota, 1992)
Elements of Democracy (Co-edited with Prof Akin Mabogunje, Ota, 1992)
The Challenges of Agricultural Production and Food Security in Africa (Co-edited with Hans D'Orville, New York, 1992)
Hope for Africa, Selected Speeches of Olusegun Obasanjo (New York, 1993)
Africa: Rise to the Challenge (Co-edited with Felix Mosha, New York, 1993)
The following publications were released after General Obasanjo's regained his freedom in 1999:
Guide to Effective Prayer (Ota, 1999)
The Animal Called Man (Ota, 1999)
Women of Virtue (Ota, 1999)
Sermon from the Prison (Ota, 2000)
A New Dawn (Abuja, 2000)
Exemplary Youth in a Difficult World (2001)
I See Hope (2002)
Olusegun Obasanjo Presidential Library
In 1998, nine years after he relinquished power as military Head of State, General Olusegun Obasanjo thought of an enduring legacy that would capture his years as Nigeria's leaders. But the idea of what is today known as Olusegun Obasanjo Presidential Library did not begin to crystallize until about a decade later, about which time fortune launched him once again into the nation's number one seat.
Conceived in the mould of the American Presidential Libraries, OOPL remains the first of its kind in Nigeria and arguably in the whole of the African continent. The massive project located in General Obasanjo's hometown of Abeokuta, Southwest Nigeria, provides an accommodation for the life's work and memorabilia on the Obasanjo Presidential years as well as an ambience to carry out research work on him and other matters of interest.