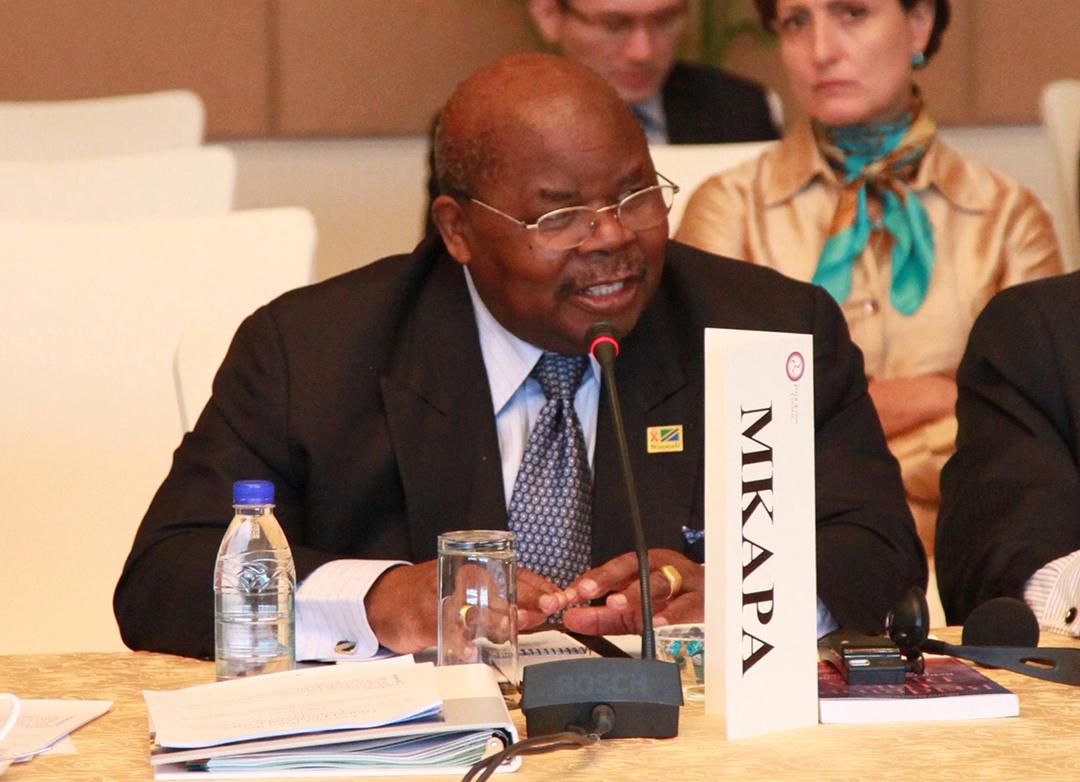 President of Tanzania 1995-2005
Date and place of birth:
Born 12 November 1938 in Masasi, Tanzania. Died July 2020.
Education:
BA (Honours) in English, Makerere University College, Uganda 1962

Special course for Diplomats from Newly Independent States, School of International Affairs, Columbia University 1963
Professional and Political Experience:
He is amember of the InterAction Council; Club de Madrid; Africa Forum; Board of Trustees of the Africa Wildlife Foundation; Chancellor of the University of Dodoma, Tanzania, and Cavendish University of Uganda.
He was President of Tanzania from 1995 to 2005 and Chairman of Tanzania's ruling party, CCM (Chama cha Mapinduzi). Prior to being elected President in 1995, he was High Commissioner to Nigeria; High Commissioner to Canada; an Ambassador to the United States of America; Minister for Science, Technology and Higher Education; Minister for Information and Culture; Minister for Foreign Affairs; Minister for Information and Broadcasting.
H.E. Benjamin William Mkapa was also a member of the Commission for Africa; Chair of the Advisory Council of Microsoft 4Afrika; Chair of the South Centre (2006 – 2018), Co-Chair of the African Emerging Markets Forum (AEMF);  the Board of the International Crisis Group; Co-Chair of the World Commission on the Social Dimension of Globalization; the Panel of Eminent Persons appointed by the UNCTAD Secretary-General, to review and enhance the role of UNCTAD within the United Nations Reforms and the High-level Panel on UN System-wide Coherence in areas of Development, Humanitarian Assistance and Environment, Commissioner of UN Commission on the Legal Empowerment of the Poor 2006 – 2008, Patron for UN Committee Year of Planet Earth and  the Chairperson of the UN Secretary General Referendum Panel on Sudan in 2010.
H.E. Benjamin William Mkapa is the Founder of the Benjamin William Mkapa Foundation (BMF), whose mission is to facilitate the delivery of responsive health services, including HIV and AIDS, particularly in underserved areas in Tanzania through innovations in health systems.  He is the 'holder' of a dozen honorary awards by distinguished academic and other institutions.