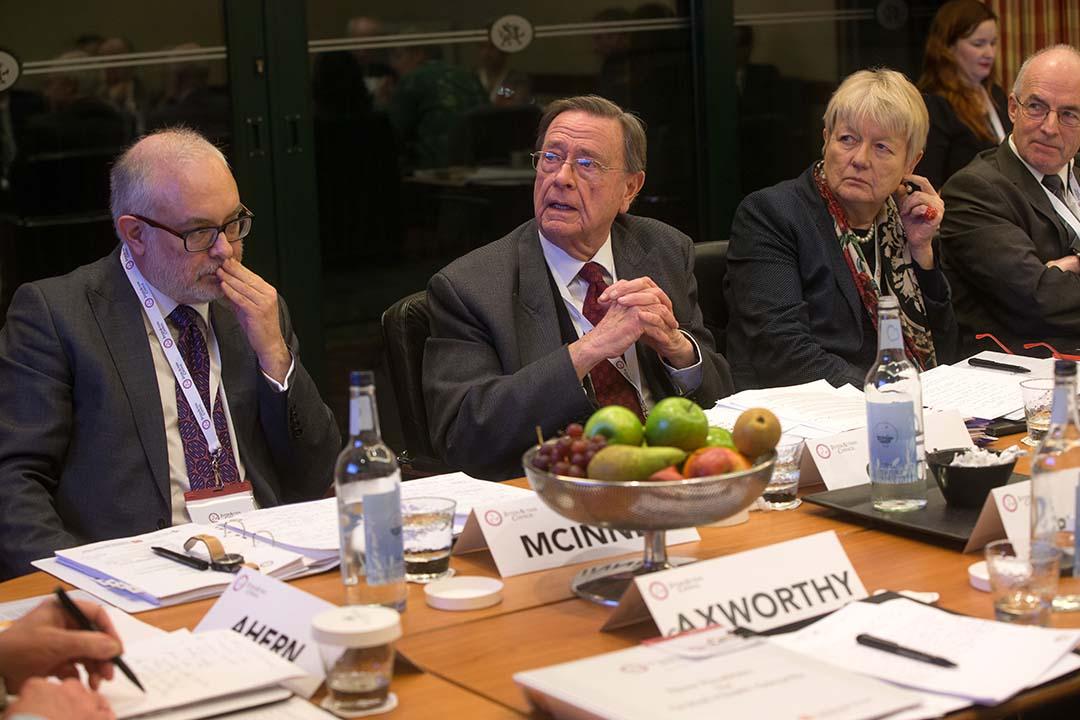 High-Level Expert Group Meeting
15-16 February 2016
The Celtic Manor Resort, Wales
Chaired by Bertie Ahern
OBJECTIVES
To prepare a report for the InterAction Council's Annual Plenary Meeting in March 2016, with an update on the progress to better prepare for global public health emergencies and to ensure global health security since the June 2015 meeting.
To consider wider health development and security matters that should inform a draft InterAction Council Pathfinder for New Realities for Global Health Security. 
List of Participants
InterAction Council Members
H.E. Mr. Bertie Ahern (former Prime Minister), Ireland
Secretary-General
Dr. Thomas S. Axworthy, Distinguished Senior Fellow, Munk School of Global Affairs, University of Toronto
Special Guests
Prof. Mark Bellis, Director of Policy, Research and Development, Public Health Wales; Chairs, World Health Organization Collaborating Centre for Violence Prevention, Centre for Public Health, Liverpool John Moores University
Dr. Tracey Cooper, Chief Executive, Public Health Wales
Prof. Mark Drakeford, Minister for Health and Social Services, Welsh Government
Mr. Nicholas Fogg, former Mayor of Marlborough
Prof. Simon Gibson, Chief Executive, Wesley Clover Corporation
Professor Sir Andy Haines, Professor of Public Health and Primary Care, London School of Hygiene & Tropical Medicine
Prof. Peter Halligan, Chief Executive, Learned Society of Wales
Ms. Anne Harmer, Programme Manager, Research for Health in Humanitarian Crises, Enhanced Learning and Research for Humanitarian Assistance
Ms. Sophie Howe, Future Generations Commissioner for Wales
Prof. Iliona Kickbusch, Director of the Global Health Programme, The Graduate Institute of International and Development Studies, Geneva
Lt. Gen. Louis Lillywhite, Senior Research Fellow, Chatham House Centre for Global Health Security
Dr. Brian McCloskey, Director of Global Health, Public Health England; UK Strategy Advisor, Office of the UN Special Envoy on Ebola
Prof. Colin McInnes, UNESCO Professor of HIV/AIDS and Health Security in Africa and Director of the Centre for Health and International Relations, Aberystwyth University
Ms. Modi Mwatsama, Director, Global Health, UK Health Forum
Dr. Joanna Nurse, Medical Adviser and Head of Department, Commonwealth Secretariat
Dr. John Wyn Owen, Senior Health Advisor, InterAction Council; Chair, Health Protection Committee, Wales; Treasurer, Learned Society of Wales
Mr. Irfon Rees, Deputy Director, Public Health Division, Welsh Government
Prof. David Russell, Head of Centre for Radiation, Chemical and Environmental Hazards – Wales; Head of WHO Collaborating Centre for Chemical Incidents
Dr. Quentin Sandifer, Executive Director of Public Health Services and Medical Director, Public Health Wales
The InterAction Council gratefully acknowledges the generous support of our partners for this meeting, Public Health Wales and The Learned Society of Wales.