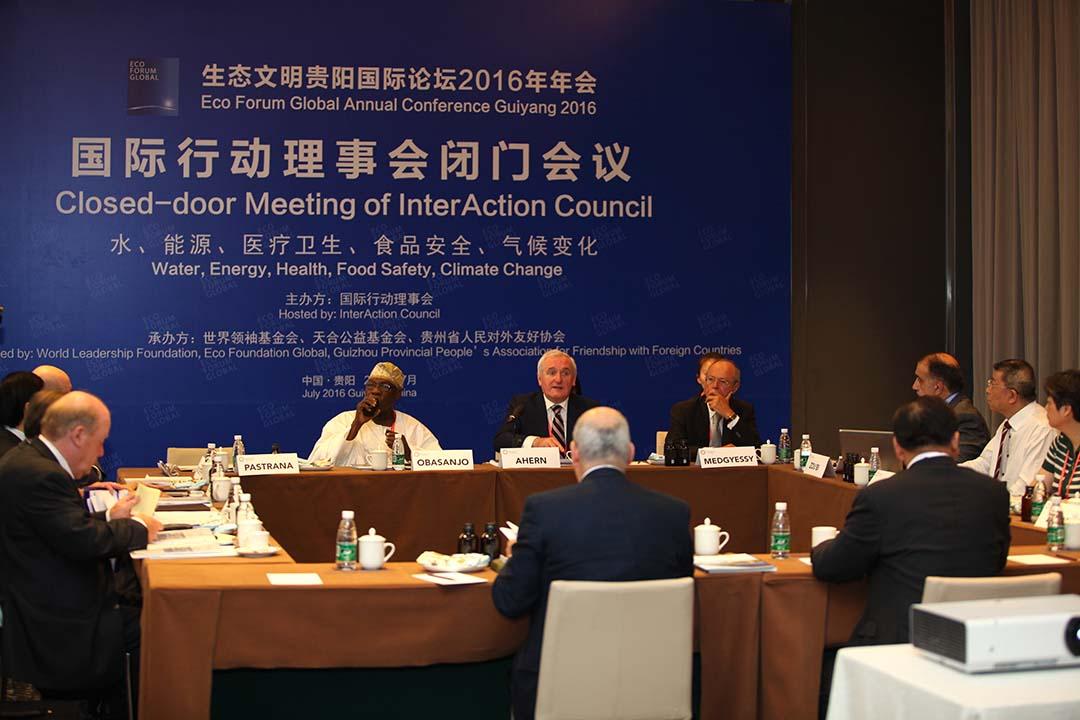 8 July 2016
Guiyang, China
Partnering with Eco-Forum Global: Implementing the 2030 Agenda for Sustainable Development
In September 2016, G20 members will meet in Hangzhou, Zhejiang, China to explore an "innovated, invigorated, interconnected and inclusive world economy." It is expected that the G20 will consider how to encourage green finance, to implement the 2030 Agenda for Sustainable Development, and to promote a sustainable energy supply.
Prior to the G20 meeting, the InterAction Council (IAC) will partner with the Eco-Forum Global (EFG) in Guiyang, China. Now in its seventh year, the EFG's theme of an eco-civilization and "green development with unity of knowledge and actions" will provide an exciting opportunity for the InterAction Council and the EFG to work together on creating actionable recommendations.
The InterAction Council will convene a High-Level Expert Group Meeting on the WEHAB elements on 8 July.
In "Laudato Si", Pope Francis wrote:
The same ingenuity which has brought about enormous technological progress has so far proved incapable of finding effective ways of dealing with grave environmental and social problems worldwide. A global consensus is essential for confronting the deeper problems, which cannot be resolved by unilateral actions on the part of individual countries. Such a consensus could lead, for example, to planning a sustainable and diversified agriculture, developing renewable and less polluting forms of energy, encouraging a more efficient use of energy, promoting a better management of marine and forest resources, and ensuring universal access to drinking water.
Does technological progress have to be in conflict with protecting the environment? As capitalists seek return on investment, are they prevented from addressing seemingly intractable social problems? We hope that through our discussions in Guiyang, we might be able to chart a course that balances considerations that are too often and too easily cast in opposition to one another.
In our interconnected world, the global community must face the enormous challenge of how best to provide clean water, adequate sanitation, nutritious food, and sustainable energy to its ever-increasing population.
Agriculture
Agriculture is the largest user of water globally and water and food production as major energy users; the landscapes of water, food, and energy are inextricably linked.
It is becoming increasingly difficult to find the water we require to produce the food that we need. The Food and Agriculture Organization (FAO) of the United Nations has warned that global food production needs to increase 60 per cent from 2005 levels by 2050 in order to meet global demand. The developing world is experiencing unprecedented population growth in parallel with a shift to manufacturing-based economies. This is having a profound impact on the energy market as well as on water supply and quality.
Climate Change and Water
The 2015 Paris Climate Conference (COP21) recognized water's innate link to climate change. In Paris, water was described as "not a sector but a connector" because it has the ability "to connect policy areas, economic sectors, ecosystems, and societies," making it "a key channel through which opportunities for cooperation, and trust, can grow."[1]
The Sustainable Development Goals
The Sustainable Development Goals (SDGs), as announced in the UN's 2030 Agenda for Sustainable Development, address the way all dimensions of life on this planet shape humanity and the planet.
The SDG has 17 goals, which include targets for poverty, climate change, access to water, responsible production, and consumption among others. The goals are all interrelated and interdependent. For example, the second SDG makes the connection between food security and health through its emphasis on ensuring everyone has access to nutritious food.
The health of humanity depends on the overall health of our planet. There are fifty emerging diseases born from the interaction between humans, animals, and nature. The probability of a pandemic outbreak with serious consequences is increased by population increase, change in food and agriculture systems, and evolving land use. Access to safe potable water is one major way to prevent disease. The SDGs provide a framework for a comprehensive and cross-sectoral approach to health: good health and well-being is one of the SDGs, but all SDGs are related to health in one way or another.
The SDGs require all states to take concrete measures towards achieving the overarching goal of global sustainable development and thus offer a comprehensive response to risks and challenges. But this can only be achieved through collective action and states acting in concert. States must recognize their concomitant responsibilities if they accept the SDGs.
Silos: Wonderful Places to Store Grain, but Terrible Places for Public Policy
The water, food, and energy nexus cannot be solved without interdisciplinary coordination. Solutions cannot be contained in silos. The integration of economic, legal, and scientific perspectives is essential for world leaders attempting to make better public policy decisions regarding the allocation and protection of natural resources.
For example, is it possible to consider humanitarian relief and a response to the Syrian refugee crisis without some awareness of how climate change has contributed to the challenge?
At the World Humanitarian Summit in May 2016, world leaders discussed the Agenda for Humanity and recognized that humanitarian need can no longer be viewed in isolation from broader sustainable development efforts that tackle the root causes of prolonged and recurrent need. It was agreed that a new way of working must be found, one that not only meets people's needs but also reduces them by reducing people's risks and vulnerabilities.
The InterAction Council will ask Experts to deliberate:
What specific recommendations should the G20 consider when it debates food security and sustainable energy this September?  
What role can technology and innovation play in the developing world to enhance water, food, and energy security? What are the barriers and opportunities?
How do we create new thinking or products, and then get them adopted?
We know about disruptive technology; what about helpful or constructive examples?
What best practices does science convey to policy-makers with respect to managing the interface between water, energy, food and biodiversity?
How can we define the interaction between the WEHAB elements at national and global levels?
How can stakeholders engage with key actors both across borders and private, public, and third sector?
List of Participants
IAC Members
Bertie Ahern, Co-chair of the InterAction Council, the former Taoiseach of Ireland
Olusegun Obasanjo, Co-chair of the InterAction Council, Former President of Nigeria
Péter Medgyessy, Former Prime Minister of the Republic of Hungary
Andrés Pastrana, Former President of Colombia
Secretary-General
Thomas Axworthy, Secretary-General of the InterAction Council
Special Guests
Eddie Chen, General Manager and President of China Region of Eurazeo (French Investment Group)
John Wyn Owen, Senior Global Health Advisor of InterAction Council
Robert Sandford, Senior Water Advisor of InterAction Council
Alan Webber, Co-founder & Co-Editor-in-Chief of Fast Company Magazine
Wen Danjing, Senior Business Advisor of InterAction Council
Tiebing Xu, Professor of International relations, School of political science and law, Communication University of China
Zhong Hongguang, Chairman of Jiangxi Jiang Zhong Group Co., Ltd
Prof. Zhou Guping, Deputy Party Secretary, Zhejiang University (China)
Moneef Zou'bi, Director-General, Islamic World Academy of Sciences
The InterAction Council extends its warmest appreciation for the generous support of Guizhou Provincial Government, the Eco Forum Global and the Foundation of World Leadership
[1] www.siwi.org/latest/water-given-priority-in-climate-talks-at-cop21/