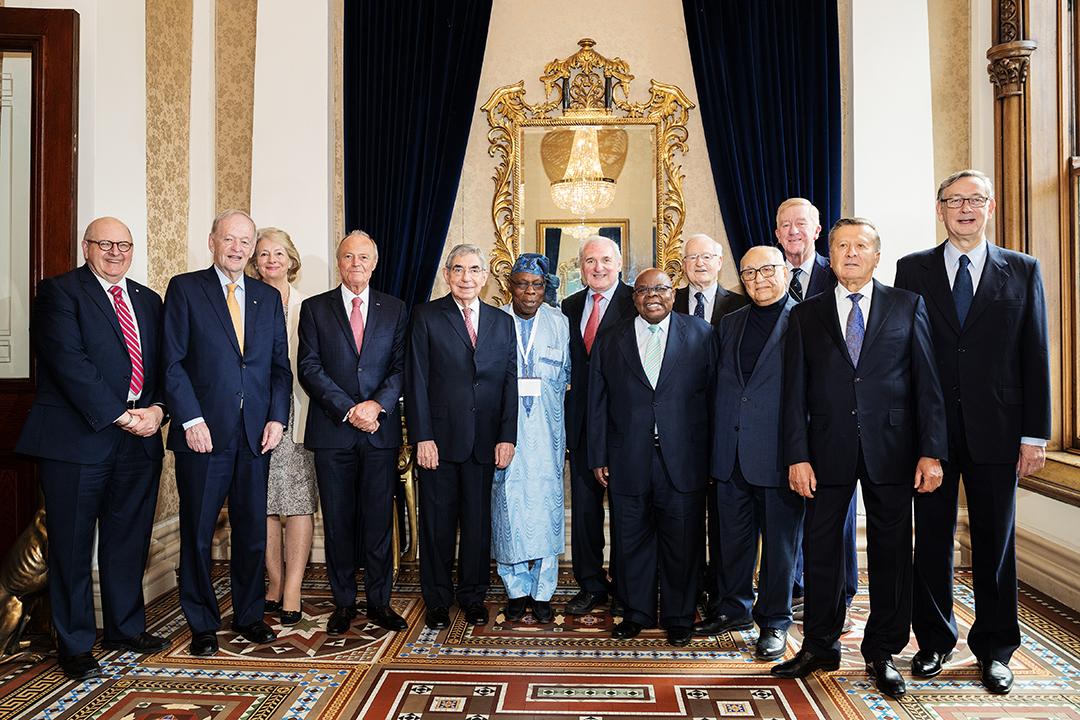 DUBLIN, IRELAND – Participants of the InterAction Council's 34th Annual Plenary Meeting concluded their meeting in Dublin, Ireland, today. Along with its Final Communuqué, the Council proposed a Dublin Charter for One Health.
THE DUBLIN CHARTER FOR ONE HEALTH
Preamble
The Charter for One Health is a statement of the values of social justice and fairness for all. The Charter is focused on collective action to protect and promote health and wellbeing; prevent disease and disability; and foster resilience and adaption that respond to the fragility of the planet and the obligation to safeguard those aspects of the environment that are essential for human health in the Anthropocene epoch. It builds on the Universal Declaration for Human Responsibilities.
1.       A right to benefit from the earth's bounty is balanced with an obligation to respect, care for, and restore the earth and its natural resources.
In the Anthropocene epoch, in exchange for the right to benefit from the earth's bounty, we have an obligation at all levels society – personal, community, national, regional, global and planetary – to respect, care for and restore the earth and its natural resources. In addition, it requires radical adjustments in the way we live, work, produce, consume, generate our energy, transport ourselves and design our cities.
In the face of threats to human health and wellbeing, the sustainability of civilization, the natural and human made systems that provides support, there are obligations and responsibilities placed on all to nourish and sustain the diversity of life within which we co-exist and on which we depend.
2. Everyone has an obligation to respect life by conserving, sustaining, and making resilient the planetary and human systems essential for the health of humanity and the wellbeing of future generations.
To support these actions, there is a need to agree on a statement of values and practices based on our interconnectedness, cooperation and individual action focused on conserving, sustaining, and making resilient the planetary and human systems on which health depends.
3. Sustainable development is dependent on peaceful societies and an obligation on all to contribute to human security.
Sustainable development is dependent on an environment of peace and stability. This is an obligation for all to invest in more inclusive societies and minimize the effects of disasters to create conditions for all people to thrive. In areas of conflict and post-conflict, we must aim to make health a bridge to peace, focusing on conflict prevention.
Action for One Health
1. Co-ordinated local, national, multilateral, and global solutions are required to tackle poverty, global environmental change, peace and justice, access to clean water, and responsible production and consumption.
2. Increased resilience is needed to respond to emerging threats and to tackle the driving forces of environmental change in order to enhance the integrity of the natural systems on which humanity depends.
3. Environmental health should be integrated into health budgeting with a preventive approach. There is an obligation to expand trans-disciplinary research to address gaps in knowledge through defining the links between health and environmental change, and to develop potential adaption strategies for populations subject to environmental change.
4. There is an imperative that governance, accountability, monitoring and independent evaluation be improved and policy, legislative and regulatory changes will be necessary in all sectors related to health – social, economic and environmental determinants and patterns of international commerce, trade, finance, advertising, culture and communications.
5. Fearless leadership is needed, as well as whole societal engagement, recognizing that governments acting alone will not be able to deliver One Health and will require broader leadership from civil society, the scientific community, academia, local government and the private sector supported by a global learning network.
6. Establish an independent accountability mechanism to ensure monitoring and review of the aforementioned Actions for One Health.Ӭ
About InterAction Council
Established in 1983, the InterAction Council is an international organization whose objective is to address long-term, global issues facing humankind. Co-Chaired by H.E. Mr. Bertie Ahern (Prime Minister of Ireland, 1997-2008) and H.E. Mr. Olusegun Obasanjo (President of Nigeria, 1999-2007), the Council's membership is comprised of forty former world leaders who volunteer their time to develop proposals for action and submit them directly to national and international decision-makers.