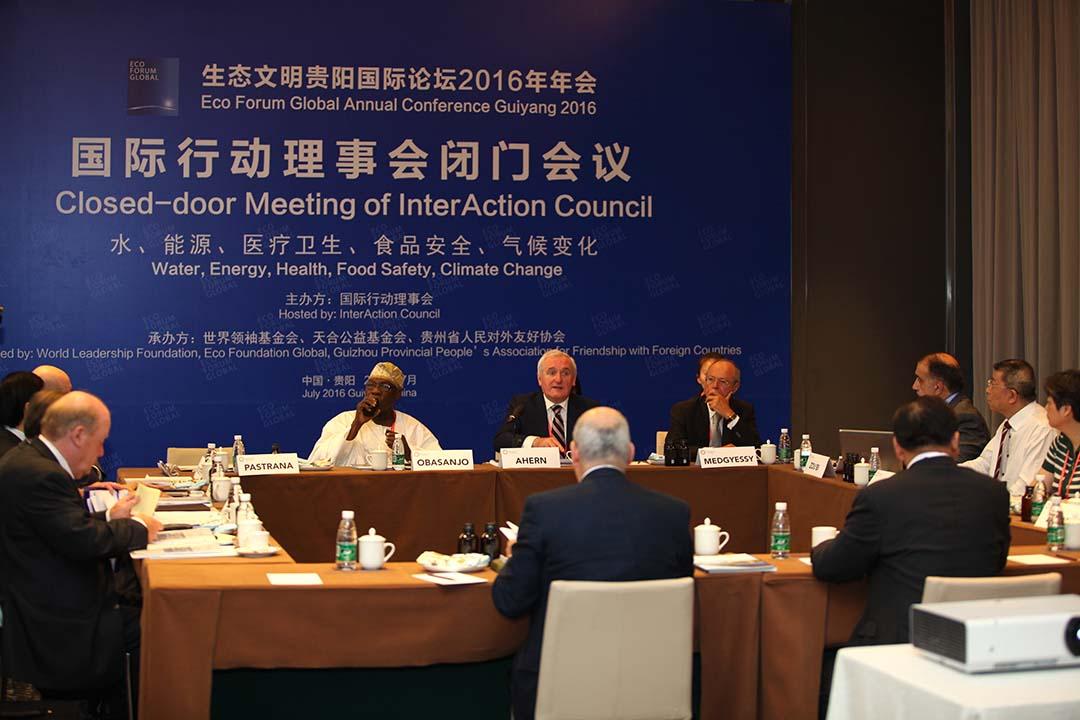 GUIYANG, CHINA – Participants of the InterAction Council's high-level expert group meeting in Guiyang, China concluded their meeting today on "The Water, Energy, Health Agriculture, and Biodiversity (WEHAB) Elements in a Changing World: Developing the Nexus" by releasing a series of recommendations to the G20 Summit to be held in Huangzhou in September 2016. The InterAction Council met in Guiyang in partnership with the Eco Forum Global, with its shared commitment to environmental issues.

The Council released its report on the expert group meeting (to follow), which includes 16 recommendations on three themes: global health, water, and innovation.
Highlights of the recommendations include:
Global health protection, and investing in it, must be recognized as an issue of national and global security.
States should recognize the need for restorative development that not only sustains, but also replenishes our national capital and reforms global financial measures accordingly.
The G20 should set an example by incentivizing accelerated, institutionalized implementation of the Sustainable Development Goals (SDGs).
The G20 should recognize the ethical responsibility of current generations to future generations in sustaining and restoring the health of the planet.
Transboundary water issues are a potential source of conflict but could and should be resolved through integrative water resource management: the G20 should recommend all states to participate in and fully implement agreements on the management of trans-boundary waters as per SDG 6.
A more refined measure of human progress than the GDP must be developed in order to measure development in a more systemic and holistic manner. The G20 should replace purely financial accounting metrics with performance metrics based on planetary health.
Research aimed at the "Next Green Revolution" in agriculture should be incentivized and supported. Innovation should support local, sustainable farming that produces products that are healthy for people and good for the land and soil.
Initiate an investment fund with public and private partnerships, which would invest and bring technology from small and medium sized enterprises from the developed countries into developing markets.
As the G20 nations invest in infrastructure, natural capital, such as restoring wetlands, should be prioritized on an equal footing with more traditional infrastructure such as highways.
The meeting brought together leading experts and four former world leaders, H.E. Mr. Bertie Ahern, former Prime Minister of Ireland and Council Co-Chair; H.E. Mr. Olusegun Obasanjo, former President of Nigeria and Council Co-Chair; H.E. Dr. Péter Medgyessy, former Prime Minister of Hungary; and H.E. Mr. Andrés Pastrana, former President of Colombia. High-level experts included Dr. Thomas Axworthy, Chair of Public Policy at Massey College, University of Toronto; Mr. Robert Sandford, EPCOR Chair for Water and Climate Security at the United Nations University Institute for Water, Environment and Health; Mr. Alan Webber, Co-Founder and Co-Editor-in-Chief of Fast Company Magazine; and Mr. Zhong Hongguang, Chairman of Jiangzi Jiang Zhong Group Co., Ltd.
In its 33-year history, the InterAction Council has been at the forefront of many prominent issues, most notably the 1997 drafting of the Universal Declaration of Human Responsibilities, a document proposed to complement the United Nation's Universal Declaration of Human Rights; the 2010 Hiroshima Declaration, a powerful plea for the abolishment of nuclear weapons; and the 2012 report, The Global Water Crisis: Addressing an Urgent Security Issue."¨
About InterAction Council
Established in 1983, the InterAction Council of Former Heads of State and Government is an international organization whose objective is to address long-term, global issues facing humankind. Co-Chaired by H.E. Mr. Bertie Ahern (Prime Minister of Ireland, 1997-2008) and H.E. Mr. Olusegun Obasanjo (President of Nigeria, 1999-2007), the Council's membership is comprised of forty former world leaders who volunteer their time to develop proposals for action and submit them directly to national and international decision-makers.