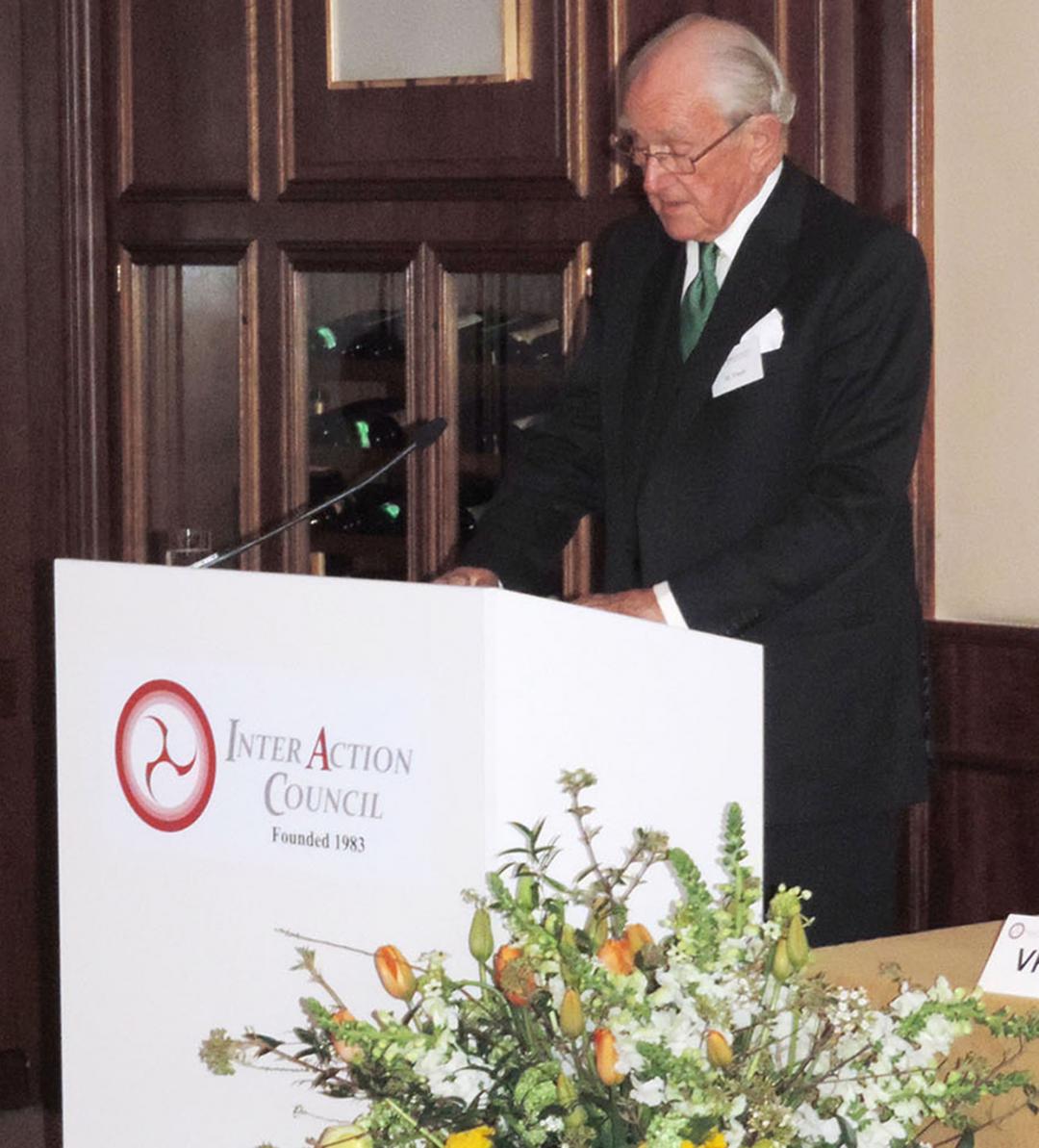 Farmer, politician, Prime Minister of Australia, human rights conscience, counselor, friend. Born May 21 1930, in Melbourne, died March 20, 2015, age 84.
Malcolm Fraser was a towering figure – in height, intellect, and passion. Six feet four, with large hands and broad shoulders, Fraser had the frame of one of Australia's famed athletes, but along with that considerable height went a considerable intelligence. Raised on the family ranch at Nareen Station, western Victoria, Fraser returned to the life of a grazier, raising Merino sheep and Simmental cattle, after his career in politics was over.
He often told a story of his life as a young boy on the farm, during a severe Australian drought, when he worked through the night to save the ewes. Fraser's life as a farmer dealing with weather and loss was undoubtedly the context of his most rueful saying: "life was not meant to be easy."
While never forgetting his rural roots, Fraser expanded his horizons by attending Magdalen College, University of Oxford, graduating in 1952 with a degree in Philosophy, Politics and Economics, but also establishing a lifelong friendship with his classmate John Turner. When he returned to Australia, Fraser supported the Liberal-Country party and soon won a seat - at age 25 - in parliament where he sat for the next 28 years. Becoming leader of the Liberal Party in 1975, he became prime minister that year and served in Australia's highest office until 1983.
The many obituaries for Malcolm Fraser naturally concentrated on his time as prime minister, in which he expanded immigration from Asia and promoted a humane policy of admitting refugees. Australians commented on his death that he was "a giant and visionary."
But I got to know Malcolm Fraser well, not in his glory years as prime minister but rather in the post-retirement phase of his career. He was a founding member of the InterAction Council of former world leaders, and became chair of that organization for many years. Malcolm Fraser wanted to use his knowledge as a former leader to contribute to today's debates. He was not one to retire to the shadows.
Fraser's drive, his attention to detail, and his insistence on clear language is well-illustrated by the 2002 IAC meeting in Berlin. As the members of the Council and guests enjoyed a cruise on the River Spree, hosted by Chancellor Gerhard Schroeder of Germany, Fraser read a draft of the proposed communiqué. Staring down from his great height, he growled, "The English is sloppy, the logic worse. We must do better." He absented himself from the party, took a table in the hold of the ship and worked for hours with a few volunteers to improve the draft. Life indeed was not meant to be easy when you worked for Malcolm Fraser, but if he pushed you, he pushed himself even harder to contribute to a better world.
- Thomas S. Axworthy, Secretary-General of the InterAction Council