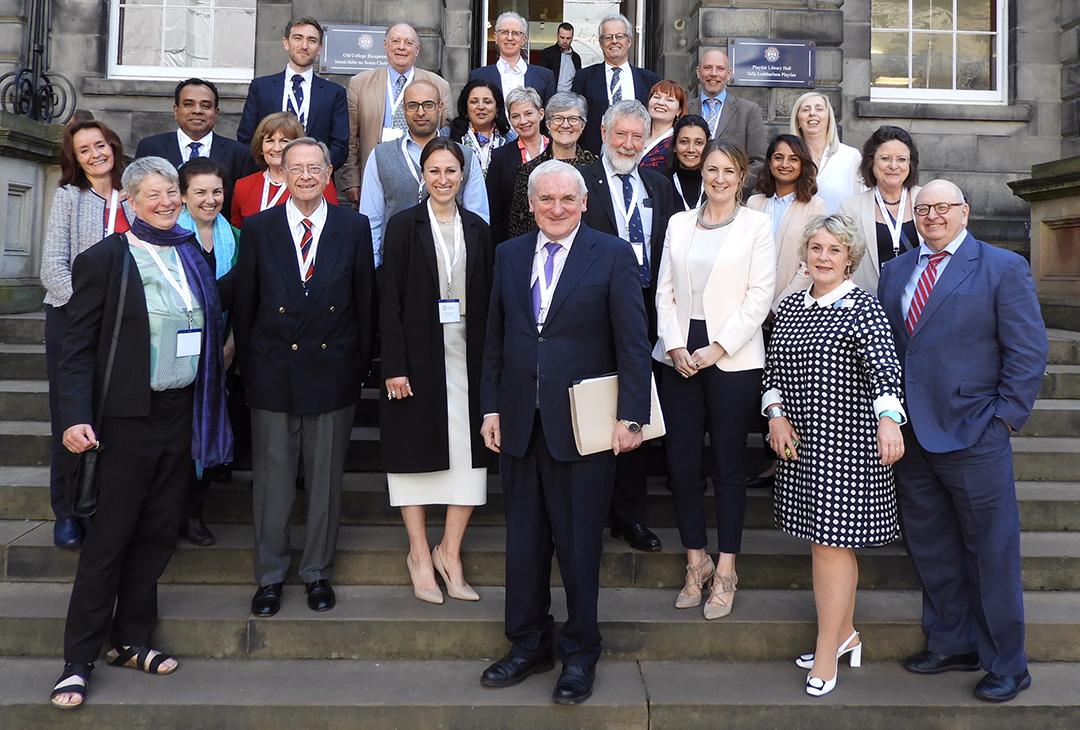 Purpose and anticipated outcomes of the Meeting: 
The InterAction Council hosted a meeting for Collaborative Action on One Health for People and Planet to:
Bring together key partners with an interest in developing collaborative mechanisms, leadership and scaling up solutions to strengthen resilience, health and well-being for all on this planet. 

Identify strategic levers to enhance global security and promote the health of the planet for all, and in doing so, enable the delivery of the Sustainable Development Goals. 

In addition, this meeting aims to form the foundation of a mechanism to scale up collaborative action on One Health for People and Planet. 
Context: 
Over the last three years, the InterAction Council has hosted a series of high-level expert groups that focused on the relationship of Health with Global Security, including the Ebola outbreak, environmental disasters and the role of health in preventing violence. In 2017, in response to this process, the Council endorsed a Charter for One Health, which includes a strong emphasis on promoting leadership for Planetary Health, as well as enhancing systems for cross-sector working, underpinned by peace and security. The Council considers that this approach can act as a unifying principle to enable the delivery of the Sustainable Development Goals.
The main areas outlined in the InterAction Council Charter for One Health, are summarised below:  
Summary of the Actions in the Charter for One Health
1. Strengthen multi-sector solutions to enable the SDGs 
2. Preventive approaches for peace and security, and resilience to emerging threats
3. Mainstream One Health within health systems for Universal Health Coverage
4. Strengthen One Health Governance mechanisms for systems reform
5. Build Planetary Health leadership for future generations
6. Establish an independent accountability mechanism for One Health
In order to explore mechanisms to best take forward the actions outlined in the Charter for One Health, the InterAction Council held a high-level partners meeting on the 28th May, as a pre-meeting to the 2nd Planetary Health Conference in Edinburgh, (29-31st May, 2018). 
LIST OF PARTICIPANTS
InterAction Council Members
H.E. Mr. Bertie Ahern, Co-Chairman (former Prime Minister), Ireland
InterAction Council Secretary-General
Dr. Thomas Axworthy, Distinguished Senior Fellow, Munk School of Global Affairs, University of Toronto 
InterAction Council Advisors
Dr. Joanna Nurse, Strategic Advisor, One Health for People and Planet

Dr. John Wyn Owen, Senior Advisor on Global Health, InterAction Council; Former Chair, Health Protection Committee, Wales; Treasurer, Learned Society of Wales 
Special Guests
Dr. Fiona Adshead, Deputy CEO and Director of Strategy and Partnerships, NCD Alliance

Prof. Robyn Alders, Professor of Food and Nutrition, School of Life and Environmental Sciences, The University of Sydney

Dr. Timothy Bouley, Climate Change and Health Program Lead, World Bank

Dr. Tracey Cooper, Chief Executive, Public Health Wales

Dr. Osman A. Dar, Director, One Health Project, Centre on Global Health Security, Chatham House

Dr. Mandeep Dhaliwal, Director of HIV, Health and Development Practice, United Nations Development Programme

Ms. Judith Diment, Commonwealth Representative, Rotary International

Prof. Vajira H.W. Dissanayake, President, Commonwealth Medical Association

Mr. Nicholas Fogg, Writer, Journalist, and Lecturer 

Dr. Howard Frumkin, Chair, "Our Planet, Our Health" committee, Wellcome Trust

Sir Professor Andy Haines

, Professor of Environmental Change and Public Health, London School of Hygiene & Tropical Medicine

Dr. Rory Honney, Public Health Registrar Sustainability Network, NHS - Wessex

Ms. Sophie Howe, Future Generations Commissioner for Wales

Dr. Michael Moore, Immediate Past President, World Federation of Public Health Associations

Prof. Virginia Murray, Public Health Consultant, Global Disaster Risk Reduction, Public Health England

Dr. Josephine Ojiambo, Immediate Past Deputy Secretary General, Commonwealth Secretariat

Ms. Afifah Rahman-Shepherd, Research Analyst, Chatham House

Prof. Dave Reay, Professor of Carbon Management, Edinburgh University

Ms. Nabila Shaikh, Research Assistant, Chatham House

Ms. Clare Shine, Vice President and Chief Program Officer, Salzburg Global Seminar

Ms. Erika Veidis, Member Engagement and Outreach Manager, Planetary Health Alliance

Dr. Nicholas Watts, Senior Research Fellow, Institute of Commonwealth Studies, School of Advanced Study, University of London