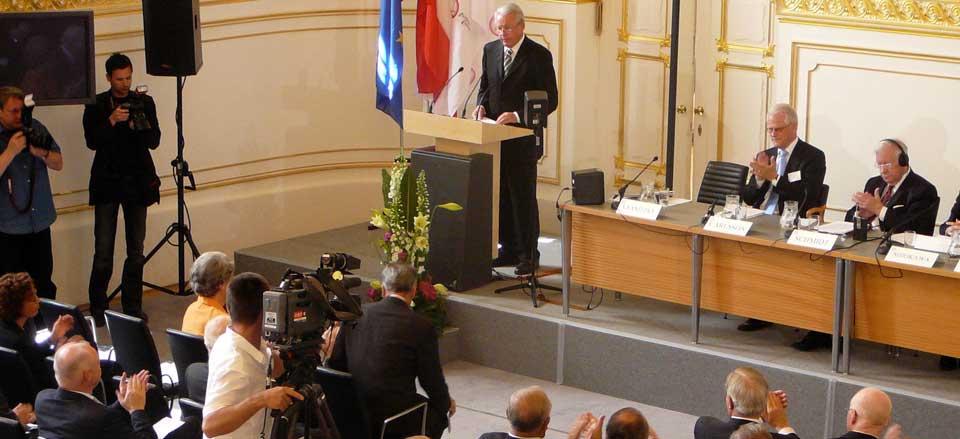 From 21-23 May 2007, the InterAction Council held its 25th Annual Plenary Meeting in Vienna, Austria
List of Participants
IAC Members
1. H. E. Mr. Helmut Schmidt, Honorary Chairman (Former Chancellor of Germany)
2. H. E. Mr. Malcolm Fraser, Honorary Chairman (Former Prime Minister of Australia)
3. H. E. Mr. Ingvar Carlsson, Co-chairman (Former Prime Minister of Sweden)
4. H. E. Mr. Franz Vranitzky, Organising Chairman (Former Chancellor of Austria)
5. H. E. Mr. Valdis Birkavs (Former Prime Minister of Latvia)
6. H. E. Mr. James Bolger (Former Prime Minister of New Zealand)
7. H. E. Mr. Jean Chrétien (Former Prime Minister of Canada)
8. H. E. Mr. Gyula Horn (Former Prime Minister of Hungary)
9. H. E. Mr. AbdelSalam Majali (Former Prime Minister of Jordan)
10. H. E. Mr. Andrés Pastrana (Former President of Colombia)
11. H. E. Mr. Yevgeny M. Primakov (Former Prime Minister of Russia)
12. H. E. Mr. George Vassiliou (Former President of Cyprus)
13. H. E. Mr. Richard von Weizsäcker (Former President of Germany)
14. H. E. President Olusegun Obasanjo (Nigeria)
Associate Members
15. Prof. Thomas Axworthy, Professor, Centre for the Study of Democracy, Queen's University (Canada)
16. H. E. Mr. Jean André François-Poncet, President of the Senatorial Committee on Regional Planning (France)
17. Prof. Hans Küng, Professor Emeritus, Tübingen University (Switzerland)
18. H. E. Mr. Lee Seung-Yun, Former Deputy Prime Minister of Korea (Korea)
Religious Leaders
19. Dr. Jawad Ahmad Al Anani, Former Deputy Prime Minister and Foreign Minister (Sunni, Islam, Jordan)
20. Dr. Ahangamage Tudor Ariyaratne, President, Sarvodaya Shramadana Movement (Theravada Buddhism, Sri Lanka)
21. Rev. Dr. Mettanando Bhikkhu, Special Advisor on the Buddhist Affairs to the World Conference of Religions for Peace (Theravada Buddhism, Thailand)
22. Archbishop Damianos of Sinai, St. Catherine's Monastery (Greek Orthodox, Greece)
23. Chief Rabbi Paul Chaim Eisenberg (Judaism, Austria)
24. Acharya Shrivatsa Goswami (Hinduism, India)
25. His Eminence Monshu Koshin Ohtani, Past President of Japan Buddhist Federation, Monshu of Jodo Shinshu Hongwanji-ha (Mahayana Buddhism, Japan)
26. Dr. Abdolkarim Soroush (Shia, Islam, Iran)
27. H. E. Bishop Herwig Sturm, Chairman of the National Ecumenical Council of Churches in Austria (Protestant, Austria)
28. Dr. Tu Weiming, Harvard University (Confucianism, China)
Special Guests
29. Sheikh Abdul-Aziz Al-Quraishi, Chairman, Saudi-U.S. Businessmen's Association (Saudi Arabia)
30. Ambassador Li Dayou, Former Ambassador to the U.S. and UN (China)
31. Prof. Richard Norton, Professor, Boston University (U.S.A.)
32. Mr. Qian Qichen, Former Deputy Prime Minister, Former Foreign Minister (China)
33. Mr. Masajuro Shiokawa, Former Minister of Finance (Japan)
34. Mr. Seiken Sugiura, Former Minister of Justice (Japan)
35. Mr. Walter Mondale, Former Vice President (U.S.A.)

Deputy Secretary-General
36. Prof. Nagao Hyodo, Former Ambassador to Belgium (Japan)

The InterAction Council acknowledges with gratitude the support given to the 25th Annual Meeting by the Government of Austria, the Government of Japan, the Government of Korea, Mr. William Laughlin and Bruno Kreisky Forum for International Dialogue.